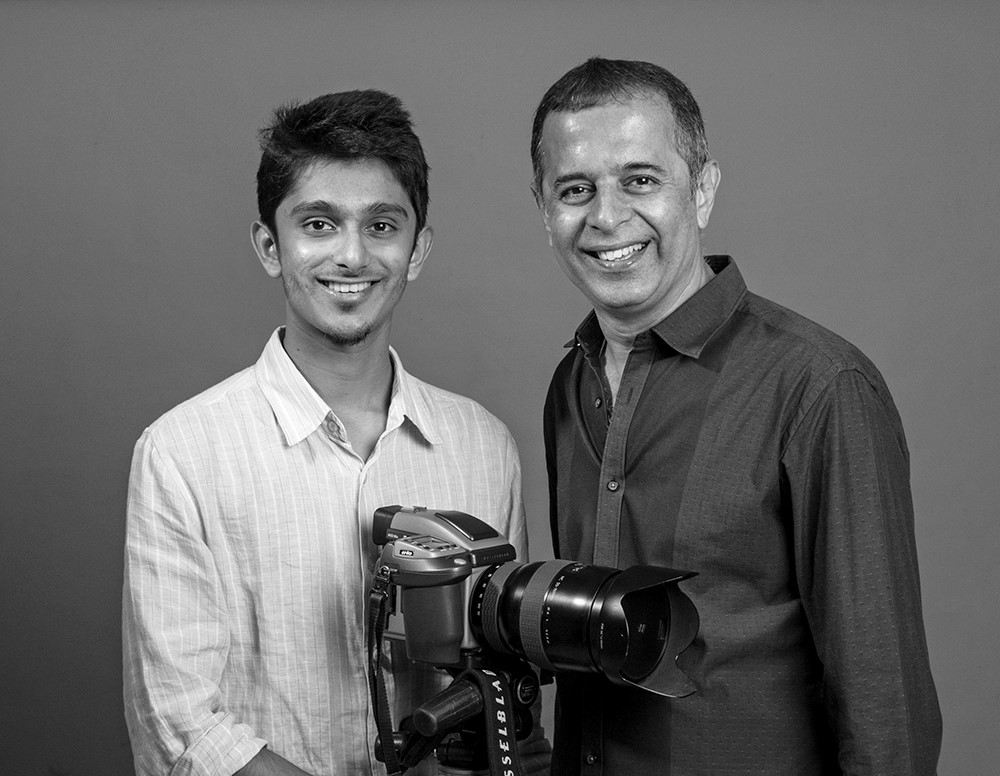 A focus on pixel perfection
Hemant Medhi is an avid image-maker who brings passion and professionalism to every single capture. He specializes in advertising, food, product, industrial, portrait and travel photography.
Hemant's obsession with the camera during his early youth eventually consummated into a growing profession. After finishing art school about 20 years ago, Hemant plunged headlong into commercial photography and has worked on a wide spectrum of assignments. His roster of clients includes photoshoots for renowned brands such as Budweiser, L&T, John Deere and Gemini Sunflower Oil.
Hemant believes that photography is more than a technique; it is an art that has the power to impact perceptions about a brand, product or person. Crystallizing his rich expertise and experience in advertising, Hemant adds a subtle creative touch to his work. Before taking to the viewfinder, he understands the context of the shoot. His insightful knowledge about media and market communication enables him to produce clutter-breaking images that tell a story.
A wildlife enthusiast and bird watcher, Hemant indulges in nature photography during his spare time. He likes to put up his work at exhibitions; the exhibition titled 'LADAKH THROUGH THE LENS', which encompassed his multidimensional experiences of Leh & Ladakh, was warmly appreciated. He has also brought out a photologue by the same name.
Inspired by the idea of taking the work of accomplished artists to today's young generation, Hemant is currently interviewing and photographing artists from diverse fields. He has plans to compile his pieces and bring out a book, which would motivate youngsters about rewarding careers in different artistic spheres. Out of his genuine love for photography, Hemant volunteers to mentor photography aspirants at various workshops.
Born and raised in Pune (India), Hemant studied at the Abhinav Kala Mahavidyalaya and holds a Certification in Photography from the prestigious Sir J.J. School of Art, Mumbai. He resides in Pune with his wife and son.
Parth Medhi – Director
Parth represents second-generation leadership at Studio Medhi, bringing youthful exuberance to the day-to-day working of the firm. a graduate in Computer Engineering, his strong technical acumen & IT skills are an asset in today's digitally dominant business environment.
Parth devotes a considerable chunk of his professional time for photography work. Indian heritage is a topic close to his heart; he takes up photoshoots that reflect the richness of Indian art and culture. The outcome is an online Art Shop that offers an assortment of photography products and souvenirs. An avid nature lover, Parth takes to the great outdoors whenever time permits.
Parth's cherished vision is to re-position Studio Medhi (erstwhile SAS Communications) to where it rightly belongs – in the league of the top 5 brand consultancies in Pune.
G. D. Art (Applied Art) with Specialization in Photography
An Alumnus of Abhinav Kala Mahavidyalay Pune and J.J. School of Art, Mumbai
Member RAMA: Regional Advertising & Marketing Association
Member MCCIA
Member Ad Club, Bombay
Overall 25 years experience in the field of Advertising & Communication design
He was an integral part of many prestigious advertising campaigns, including Gemini Refined Sunflower Oil, John Deere Tractors, Reliance Communications Ltd., Budweiser Beer (AB-INBEV), SIBM (Symbiosis International University), Larsen & Toubro Ltd. and DSK Group of Companies.
Hemant was the principal creative consultant behind the Budweiser Beer Launch in India's four metros
Hemant has cultivated a deep interest in Brand Designing & Brand Architecture
He is a specialist in the creative positioning of brands
Hemant is also an avid photographer
Armed with hi-end photography gears, Hemant has recently established www.hemantmedhi.com, an exclusive entity focusing on premium quality photography
Winner of Best Logo Design award at CEAD (Communication Excellence in Advertising and Designing), Pune
Campaigns/Brands worked for:
Larsen & Toubro Ltd.
Kingfisher Training Academy
Samrat & Gemini Sunflower Oil
John Deere Equipments Pvt. Ltd.
Reliance Communications Ltd.
Budweiser Beer (AB-INBEV)
SIBM (Symbiosis International University)
DSK Group of Companies
Sapat & Parivar Tea
Mother's Recipe
GIC
Ekbote Furnitures